Oswego Roller Hockey - The Lake Show
By Michael McCormack #12, Oswego Roller Hockey
ECRHA
October 24th, 2018 at 8:52AM
October 27th, 2018 7:05PM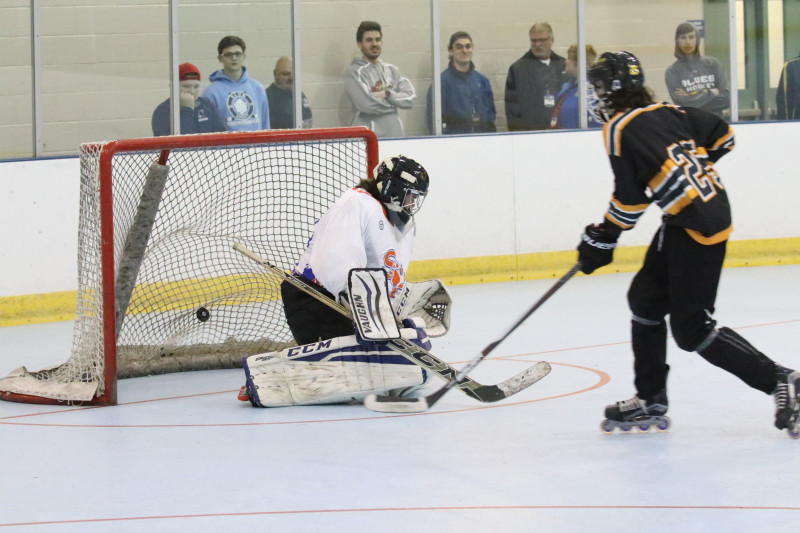 ---
"What sport do you play?"
"I play Roller Hockey"
"Wait we have a roller hockey team? Oh wait isn't that like Roller Derby or something?"
Our Roller Hockey Team may not be the most well known organization on campus, but it is indeed one of the most successful in the last two years. Since our program's inception in the 2010-2011 season, we have added four ECRHA Regional Championships appearances, three 2nd place finishes in the ECRHA Regional Championships, and two NCRHA National Championships appearances to our repertoire, with the two national championships appearances coming from the last two seasons.
Over the summer, the NCRHA board of directors decided to go forth with a divisional restructure, resulting in us having to drop down from Division II, to Division III. Unfortunately, we lost our star goaltender Michael Boyd due to graduation. However, we still have the main core of the team in tact, with the addition of a plethora of rookies.
Our #1 goal for the season is to be the best team we know we can be. Ideally, we want to win our division title, and then go on to compete for a national championship. As I mentioned before, the addition of the rookies gives our team added depth and skill, especially in some departments that we lacked skill in last year, for example: defense. We allowed WAY too many shots on goal, and everyone on the team can admit that. The last thing we want to be is a one dimensional team, where our offense is very strong but we have huge holes in our defensive play.
One thing we take pride in the most is how much our team bonds with each other. Whether it'd be on the rink, or off the rink, we always have each other's backs. We frequently get food, hang out, work out, and even study together. It's cliche to say, but we're one big family.
In summary, we are an absolute unit, with a high potential to achieve great feats this year. We want that divisional championship title, we want that national championship title. We're going to be a force to be reckoned with.
There's been a lake effect warning. Watch out NCRHA, the Roller Lakers are here and ready to go to work.