Visiting the Garden State
by Vincent Matula
ECRHA
February 14th, 2020 at 6:45AM
February 17th, 2020 7:19PM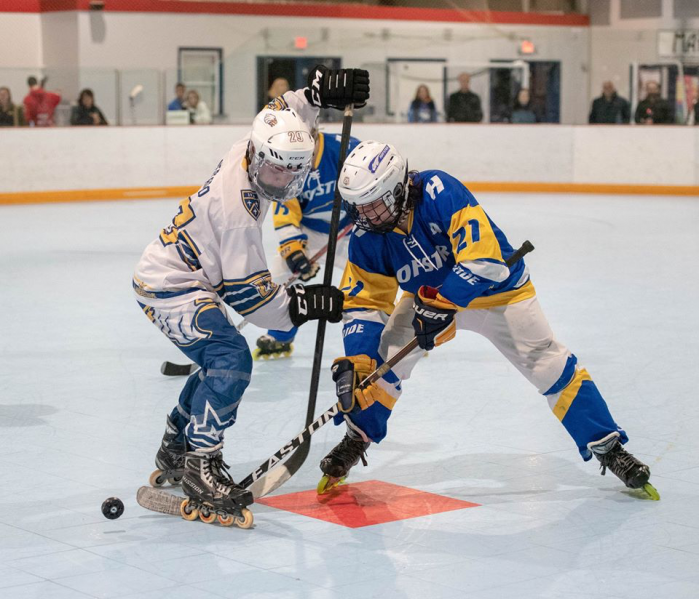 ---
It's a weekend full of Division 3 action in North Arlington, NJ as six of the seven different clubs in attendance will play their first games of the spring semester.
The only team that is not playing for the first time this semester is Montclair State. Originally scheduled to be Niagara, the Red Hawks will jump right in for three games of non-conference play. They'll begin looking for revenge against Cortland after blowing two separate two goal leads in their previous meeting and ultimately losing by a score of 7-6. Later on Saturday, Montclair will play Cornell and then finish up against St. Joseph's on Sunday morning. Since going 1-2 in their opening regular season weekend, Montclair has won nine of their last 11 games played.
Oswego comes into New Jersey with three regular season matchups to play. The Lakers start their slate off on Saturday morning with St. Joseph's while their trip ends Sunday morning against Cornell. In between those two games will be a Saturday night tilt with Cortland. The Red Dragons of Cortland are two points behind Oswego for seventh place and have a game in hand. After this primetime game and their previously mentioned non-conference game with Montclair, Cortland takes on Hofstra and Lock Haven.
Ever since their opening weekend in Dracut, MA, St. Joseph's College has lost four of their last five regular season games with their only win coming via forfeit. Averaging just over two goals per regular season game, the Golden Eagles will need more offense if they have hopes of moving up in the standings. St. Joe's begins their weekend against Oswego who they lost to in the opening round of Regionals last season and also fell in running clock fashion during pre-season. After that, they meet Lock Haven and will collide with their Long Island rivals over at Hofstra University on Saturday evening. Coming into the weekend, Hofstra trails St. Joseph's for ninth place by just one point. Before this rivalry game, the Pride will start their weekend off in a meeting between Cornell and conclude it against Cortland who they beat 6-3 back in pre-season.
Towards the bottom of the standings lies Lock Haven University and Cornell University who are both trying to climb back into the playoff conversation. Neither of these teams have scored more than ten goals in the games they have been scheduled to play this season. Three regular season matchups are on the schedule, including one between each other. The Big Red of Cornell have one additional game which is non-conference against Montclair who they lost to back in November. One of those regular season games for the Bald Eagles of Lock Haven includes St. Joseph's who they lost to in non-conference play earlier this season.