The Ohio State University Wins Division III Title!
April 11th, 2022 at 2:53PM
April 11th, 2022 7:54PM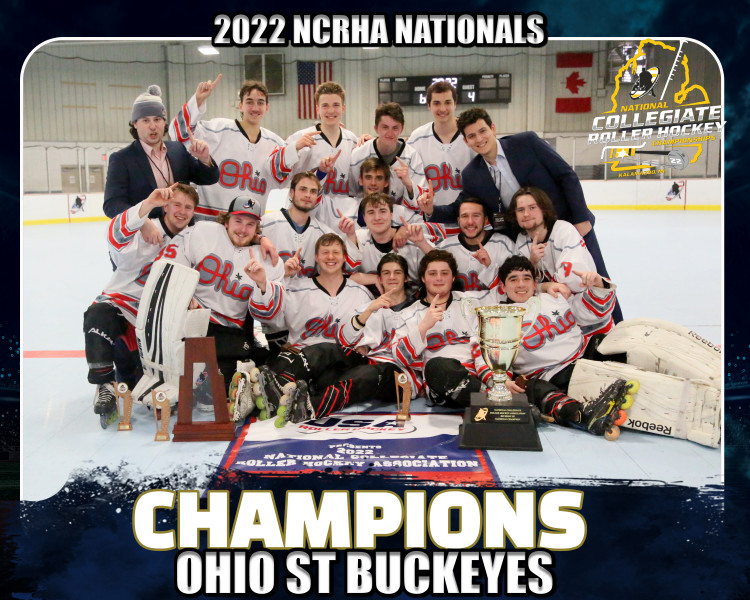 ---
The Ohio State University wins the NCRHA 2021-2022 Division III National Championship, with a 6-4 win against SUNY Cortland. Ohio State was led by Jake Cook (1 G, 2 A), Lukas Miller (2 G), and Bradley Ryniawec (2 G). Goaltender Louie Garcia stopped 26 of 30 shots that he faced, as Cortland put on the pressure in the 2nd and 3rd periods, for the championship win.
Ohio State got out in front early, scoring 3 goals in the first period (Miller, Ryniawec, & Mascitelli). In the 2nd, Cortland got on the board on the power play with a goal from Michael Luzopone (his first of 3 goals in the game). Ohio State added one more, Ryniawec's second, to get back to a 3 goal lead. The Cortland pressure was on in the 2nd, but even moreso in the 3rd. After an Ohio State power play goal just 7 seconds into the period by Miller, Cortland would pour on the pressure and score 2 goals, bringing it back to within 2. Ohio State scored with 4:21 left in the game to take a 6-3 lead. Cortland continued to press and with just under 2 minutes to play, cut the lead back to 2 with a goal by Michael Miano. Ohio State was able to hold on and win it by a score of 6-4.
Well played tournament to both teams and congratulations to the Division III Champion The Ohio State Buckeyes!
---
If you missed it, all games from the event, including the championship game, are on demand on NCRHA TV.
NCRHA TV is available on most Smart TVs and mobile devices, as well as via browser at www.NCRHA.TV.