Slippery Rock Wins 3rd Straight ECRHA AA Championship
ECRHA
March 4th, 2023 at 10:00AM
March 4th, 2023 7:55PM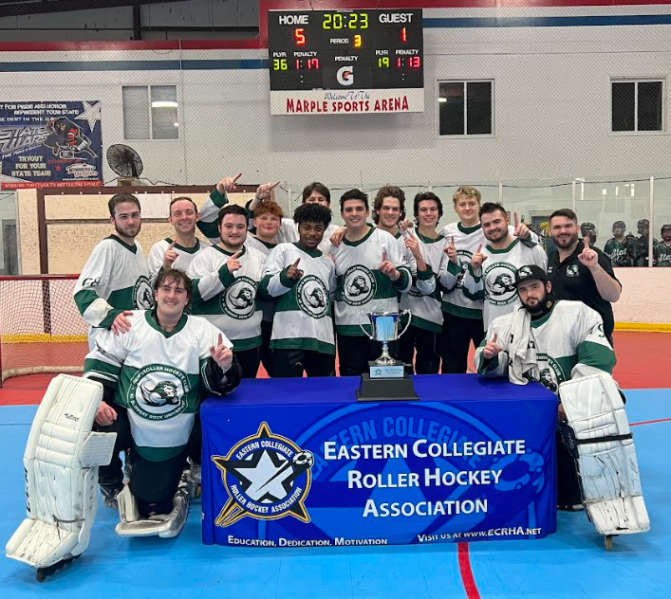 ---
Slippery Rock AA claimed their third straight ECRHA AA Championship against Farmingdale in a 5-1 victory at Marple Sports Arena. Despite Farmingdale outshooting Slippery Rock 21-20, Slippery Rock's dominant offensive performance led them to the victory.
The first period began with both teams showing strong defense, but Farmingdale broke the stalemate at the 3-minute mark with a goal by Connor Bowden, assisted by Vincent DiGiovanna. Slippery Rock's Clayton Williams received a penalty for interference soon after, giving Farmingdale a chance to extend their lead. However, they were unable to capitalize on the power play.
The second period saw Slippery Rock take control of the game, with Price McDonald scoring the first of his three goals of the game, assisted by Cade Wheeler. Slippery Rock then went on a power play and Nick Hultz scored twice, both times assisted by McDonald and Wheeler. Farmingdale also received penalties during the period, but Slippery Rock were unable to convert on any power play opportunities.
The third period saw Slippery Rock extend their lead with McDonald scoring his second goal of the game, assisted by Wheeler. Farmingdale pulled their goalie for an extra attacker, but McDonald scored his third goal of the game on an empty net, assisted by Wheeler.
In terms of the three stars of the game, Slippery Rock dominated with Price McDonald earning the first star with three goals and two assists, followed by Cade Wheeler with five assists, and Nick Hultz with two goals. Slippery Rock's Benjamin Lydon was also a standout player in goal, stopping 20 of Farmingdale's 21 shots.
In the end, Slippery Rock's strong offensive performance, coupled with their solid defense and goaltending, proved too much for Farmingdale to handle. Slippery Rock celebrated their third straight ECRHA AA Championship with a well-deserved 5-1 victory.