Henry Ford College Wins Junior College Division Title!
April 10th, 2022 at 9:42AM
April 10th, 2022 2:43PM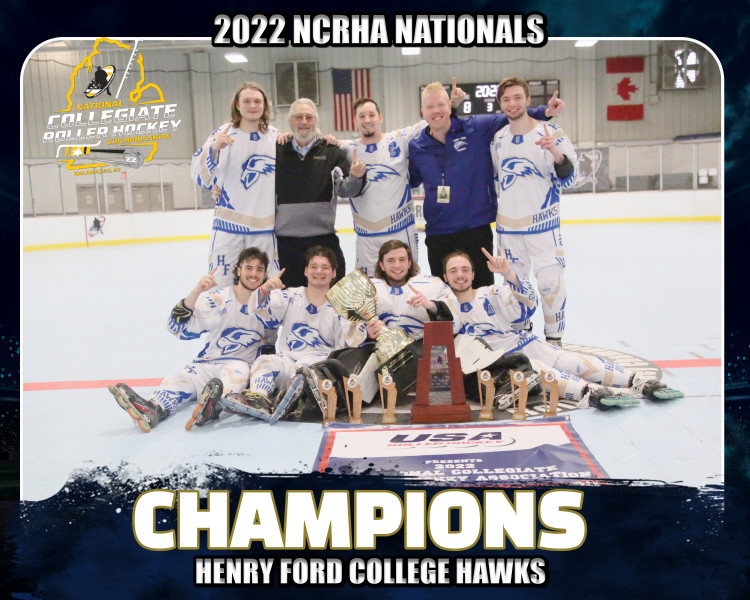 ---
Henry Ford College wins the NCRHA 2021-2022 Junior College Division National Championship, by going 3-1 in the best-of-five championship series against West Valley College. In the deciding game, it was Henry Ford's Devin Stroia (3 G, 2 A), Nicholas Mangiapane (2 G, 2 A) and Spencer Morrison (1 G, 3 A) leading the way to the title. Henry Ford goaltender Carter Pattenaude stopped all 18 shots faced in the win.
Game 1 saw West Valley come out victorious, with a 4-3 overtime win, with the game-winner scored by Joshua Viller. Games 2, 3 and 4 were Henry Ford wins, game 2 being a tight 4-3 win for Henry Ford, and then games 3 and 4 were 8-2 and 8-0 wins, respectively.
Well played tournament to both teams and congratulations to the Junior College Division National Champion Henry Ford College Hawks!
---
If you missed it, all games from the event are available on demand on NCRHA TV.
NCRHA TV is available on most Smart TVs and mobile devices, as well as via browser at www.NCRHA.TV.