Championship Weekend
by Vincent Matula
ECRHA
March 5th, 2020 at 10:08AM
March 5th, 2020 4:27PM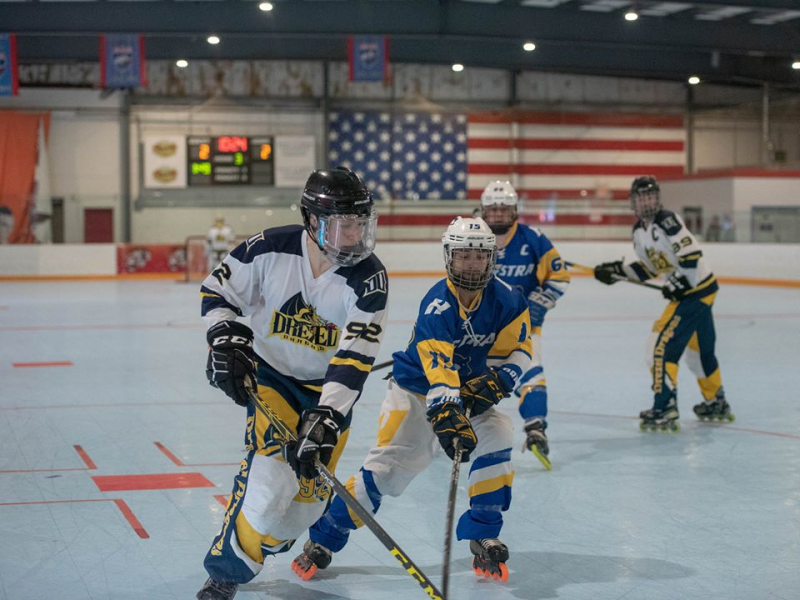 ---
Beginning on Friday, March 6th, 2020, the ECRHA Conference Championships will take place from Feasterville, Pennsylvania. A total of 24 different teams will compete for a Regional Championship in their respective divisions and look to secure their spot in the 2020 National Collegiate Roller Hockey Championships.
After clinching the top seed in Division 2, Robert Morris University will await the winner of Northeastern and Stony Brook. Bobby Mo won both their games against Northeastern by five goals while splitting the season series against Stony Brook with both games ending in one goal decisions. Rookie of the Year finalist Jack Clendaniel recorded ten points in the two games against Northeastern and tallied four goals when facing Stony Brook. Last season at Regionals, the Colonials did not win a single game and were eliminated by Northeastern.
For the second time in as many seasons, #2 seed UMass and #7 seed Penn State University will collide in the opening round at Regionals. Since their inception, the Minutemen of Massachusetts are 8-0 overall against Penn State with six of those victories by five goals or more. UMass swept the regular season series with 11-6 and 7-1 wins where Player of the Year finalist Trevor Shea had a hat trick in each game. For the Nittany Lions, their only wins against D2 this season have come over Rowan.
Including pre-season, #3 seed RIT and #6 seed West Chester University get ready to meet for the fourth time this season. Rochester IT scored six goals in both regular season games as the team took home victories in both games. Three different Tigers scored hat trick in the regular season series with one being Player of the Year finalist Cody Zajaczkowski. The other two were Samuel Murray and Brendan Solinski who round out the top three point scorers for RIT. Both clubs enter their match with three wins in their last six games.
Our final opening round matchup in D2 will be between #4 seed Northeastern University and #5 seed Stony Brook University. The Huskies and Seawolves have played each other on two separate occasions in the fall semester with Northeastern emerging victorious in both games by a score of 8-5. Player of the Year finalist Thomas Keith had a hat trick and at least six points in both games. It will be their second consecutive meeting at Regionals as Stony Brook came out on top and eliminated Northeastern last season. Stony Brook comes in as winners during seven of their last ten while Northeastern got one victory in their final five regular season contests.
Top seed Syracuse University of Division 3 will await the winner of Drexel and Hofstra before playing in their first game at Regionals. The Orange scored seven goals against both teams less than two weeks ago in Old Bethpage, New York to cap off their 13-1-1 regular season. Syracuse and Drexel faced each other in the opening round of Regionals last season where Drexel won, but the Orange got their revenge and would ultimately eliminate them a day later.
Also waiting for their first opponent at Regionals will be #2 seed Neumann University as the Knights will play against either Cortland or St. Joseph's. There's not much recent history between Neumann and either of these two teams, but the Knights won both of their regular season games in running clock fashion while still allowing three goals to these clubs. In each game, Player of the Year finalist Michael Strofe had a goal and four assists.
Looking to repeat as D3 Regional Champions this weekend will be #3 seed Endicott College. The Gulls will get the winner of Montclair State and Yeshiva as Endicott took down both teams back in the first semester of play. The club faced off against Yeshiva at Regionals and Nationals last season winning both games by seven goals. Goaltender Stephen Richetelli enters the postseason with a shutout streak of 109:16 while his team has won four straight games.
Rather than partaking in a scheduled first round matchup against #12 seed Boston University, #5 seed Temple University will automatically move forward to a tilt with #4 seed Oswego State. Back in Old Bethpage, New York, the Lakers grabbed a 5-1 win over Temple that ultimately surpassed them in the standings. It's a small sample size, but Oswego has won both contests since the divisions were restructured last season.
Although these schools are located in different states, #6 seed Montclair State University and #11 seed Yeshiva University sits less than 20 miles apart from each other. After scrimmaging one another over the past year, these two clubs will meet in the opening round of Regionals. The Red Hawks of Montclair were 11-6 winners in their only regular season game which saw Rookie of the Year finalist David Dziezawiec tally nine points.
Only one previous meeting has occurred between #7 seed SUNY Cortland and #10 seed St. Joseph's College. Back in the fall semester, the Red Dragons of Cortland took down St. Joe's by a final of 6-2. It should be an interesting duel between goaltenders Stefen Rosner and Timothy Dupuis as both average over 20 saves per game while seeing over 25 shots in a game. Through each of their last five games, Cortland is averaging ten goals a game while the Golden Eagles have scored ten total goals.
Rounding out the opening round of games in D3 is #8 seed Drexel University and #9 seed Hofstra University. Both of their games this season have been within one goal, but the Dragons of Drexel were the winning team in their one and only regular season match which saw the winning goal being scored with 47 seconds left in regulation. Before that, the Pride of Hofstra won their previous two regular season contests by a combined score of 17-2.
Sitting back and watching before their opening game at Regionals will be top seed Slippery Rock from Division 4. The Pride will take on the winner of Oswego and Farmingdale Black. Slippery Rock won both games against the Black Rams in running clock fashion and also swept the season series against Oswego. However, Slippery Rock did trail 4-1 going into the third the last time they played the Lakers of Oswego. When it was all said and done, the Pride scored six in period three to comeback and win 7-5. Player of the Year finalist Evan Gill scored two goals in each game against Oswego while tallying at least four points in both games versus Farmingdale Black.
Joining Slippery Rock in the waiting game is #2 seed Farmingdale Green. The club will play either UMass or Northeastern depending on the winner of that game. These Green Rams swept the season series against both teams allowing less than 20 shots on goal in each of the four total games.
As previously mentioned, #3 seed UMass and #6 seed Northeastern University are going up against each other marking their fourth overall meeting this season. In their last two head-to-head matchups, Player of the Year finalist and Rookie of the Year finalist Brian Blomquist of UMass finished each game with at least three points. A second semester surge by the Minutemen of Massachusetts has them entering Regionals as winners in six of their last seven while the Huskies of Northeastern have won just one game out of seven in the spring semester.
Last but not least from D4 is #4 seed Oswego taking on #5 seed Farmingdale Black. In their two game regular season series which started and ended in the first semester, the Lakers won both games. Trailing 5-0 going into the third period of their first meeting, the Black Rams scored four in the final period which was still one goal short from forcing extra time. Player of the Year finalist and Rookie of the Year finalist Francesco Distefano of Oswego lit the lamp at least three times in both contests while Joe Dwyer of Farmingdale put up two points.
For more in-depth coverage throughout the weekend, make sure to follow @ECRHAHockey and @ECRHAPlayers on Twitter!