Division I Player of the Week
Pat Rosa Leads Hofstra in South Jersey
ECRHA
November 25th, 2013 at 5:00PM
November 26th, 2013 12:52AM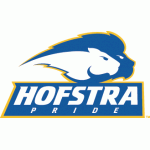 ---
Hofstra won four straight games last weekend in South Jersey to improve to 8-2-0 on the season. Leading the way for Hofstra was Pat Rosa who scored 7 goals, along with 4 assists for 11 point.
It was Rosa that got things going for Hofstra over the weekend, scoring the first goal of an exciting 5-3 victory over a feisty Temple team. Rosa continued to get hot against arch rival Stony Brook, scoring 4 goals with 1 assist for a game high 5 points as Hofstra rolled 11-1.
Against the hometown Rowan Profs, Rosa was at it again. This time scoring a pair of goals while adding an assist for 3 points as Hofstra held off Rowan 5-4 in the closest game of the weekend.
With a perfect weekend on the line and a familiar Temple opponent looking to upset Hofstra, Rosa assists on the first two goals of the game and Hofstra went to on win 4-1 completing the perfect weekend.