Top Teams Play Overtime On Sunday
ECRHA
November 19th, 2017 at 11:55AM
November 19th, 2017 6:20PM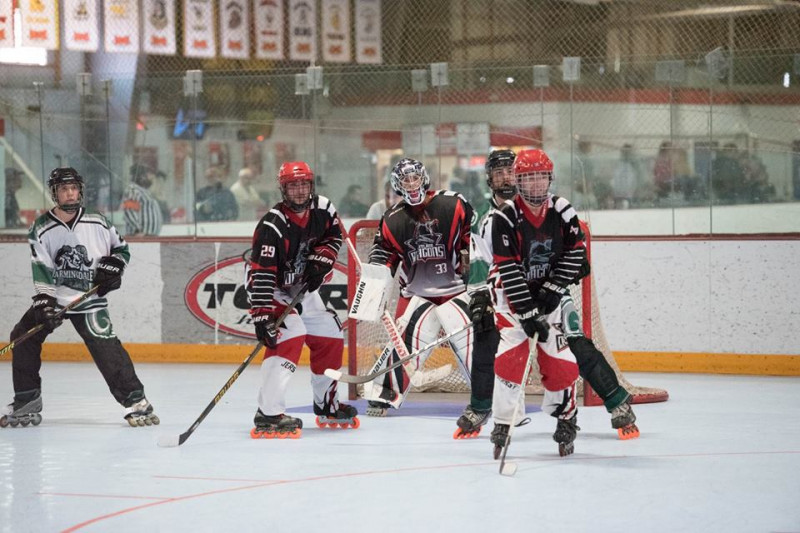 ---
Feasterville, PA - There were plenty of exciting games this morning as four games found their way to overtime in thrilling fashion.

The flurry of overtime started during the first contest of the day in Division 4 as Millersville remained undefeated with a thrilling 8-7 overtime win over Baruch.

After rallying from a 4-1 first period deficit, Millersville overcame a late tying goal by Baruch to force overtime.
In overtime, Bryan Dunton scored the game winning goal, completing his hat trick and fourth point of the contest.
#9 Slippery Rock got into the action next, upsetting 5th ranked Neumann 6-5 in overtime.
After trailing 5-2 in the second period, Slippery Rock fought back with three straight goals, including the tying goal to force overtime by Dylan Resetarits as the horn marked the end of regulation.
In overtime, it was Dustin Davis tapping in a beautiful feed from Jonathan Gazella to complete the comeback and upset .
#15 Hofstra gave #2 East Carolina all they could handle in the very next game, after trailing 2-0 early, Hofstra managed to fight back and tie the game with 36 seconds left when Collin Ewald scored on the power play to force overtime.
In overtime, Quinton Stallings scored the game winning goal with 10 seconds to play to earn the victory and avoid the shutout. East Carolina finished the weekend 5-0-0 and could possibly jump #1 Northeastern in the next rankings as they remain perfect on the season.
For the third straight game, Rink 2 headed to overtime as St. Joseph's Univeristy put forth on of their best efforts of the season, forcing overtime against a very good Penn State squad.
Sean Miller put aside any thoughts of a upset though, scoring midway through overtime to give Penn State a hard fought 5-4 victory.
Additional Scores:
D4: Cornell 10 Baruch 9 - Daniel Pike (Corn) - 6 goals 3 assists
D2: #2 East Carolina 11 St. Joseph's 2 - Quinton Stallings (ECU) - 4 goals 4 assists
D2: #9 Stony Brook 6 James Madison 0 - Rory Buckley (SBU) - 27 save shutout
D2: Boston 5 Drexel 1 - Anton Gulko (BU) - 3 goals
D1: #13 Cortland 5 Robert Morris 3 - Brian Frey (Cort) - 3 goals
D3: Farmingdale Black 4 #10 Cortland 2 - Michael Santori - 2 goals 1 assist