ECRHA League Championships Block Schedule
ECRHA
February 10th, 2018 at 6:44PM
February 11th, 2018 1:08AM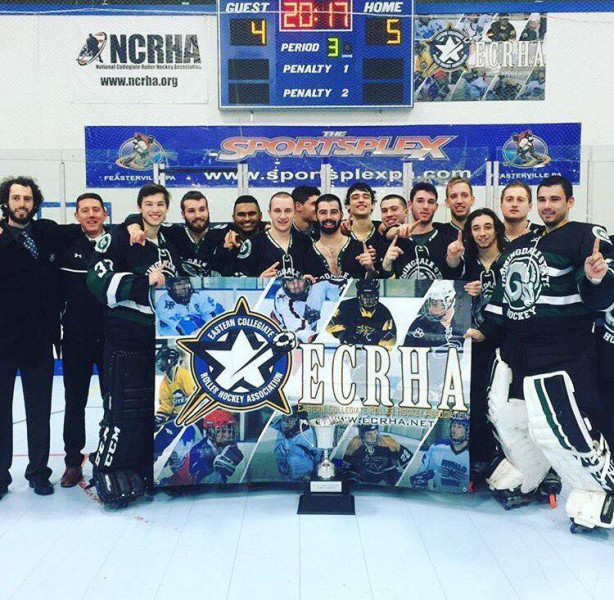 ---
Feasterville, PA - We are just three weeks away from crowning the 2017-2018 ECRHA Champions at the annual ECRHA League Championships at The Sportsplex in Feasterville, Pa.
Last seasons tournament was the first to conclude on Saturday evening, at the request of the ACC to create a better atmosphere for the semi-finals and finals.
In Division I, Farmingdale used a late winner to end Neumann's hope of a three-peat. Farmingdale will try to become just the fourth program to win back-to-back D1 crowns. Neumann will be trying to become the first team to advance to six consecutive championship games.
In Division 2, Northeastern won their 3rd league title last year, defeating Oswego by a commanding 7-1 score. Northeastern was the last school in D2 to win back to back titles, accomplishing the feat 2011-2012 & 2012-2013.
In Division 3, Farmingdale won their first championship last season, defeating Rowan by a score of 7-3. Farmingdale has a long way to go if they want to match Suffolk CCC who ran off four straight championships from 2003-2004 to 2006-2007.
In Division 4, RIT defeated Syracuse last season by a 5-3 margin. Both schools have since moved up to Division 2 meaning we will have a new champion in the division for the 10th consecutive season. The only teams who have won in the field are Baruch (2012-2013) and Niagara (2013-2014).
CLICK HERE FOR THE BLOCK SCHEDULE FOR THE 2017-2018 ECRHA LEAGUE CHAMPIONSHIPS
Information regarding ticketing, merchandise and the Awards Banquet will be made available in the coming weeks. Stay tuned to www.ecrha.net for all your League Championships information.
ECRHA Regional Championships
Division I Regional Championship Games:
1998-1999: Penn State def. Rochester Institute of Technology
1999-2000: Penn State (4) def. Pittsburgh (1)
2000-2001: Rochester Institute of Technology (6) def. Penn State at Altoona (2)
2001-2002: Rochester Institute of Technology (10) def. Penn State (1)
2002-2003: Rochester Institute of Technology (10) def. Delaware (2)
2003-2004: Towson (7) def. Maryland (5)
2004-2005: Towson (5) def. Rochester Institute of Technology (2)
2005-2006: Towson (11) def. Boston (5)
2006-2007: Rochester Institute of Technology (4) def. Buffalo (3)
2007-2008: Buffalo (6) def. Towson (4)
2008-2009: Rhode Island (3) def. Buffalo (2) - overtime
2009-2010: Buffalo (6) def. Rhode Island (3)
2010-2011: Rowan (8) def. Buffalo (4)
2011-2012: West Chester (6) def. Towson (3)
2012-2013: Neumann (7) def. West Chester (0)
2013-2014: Hofstra (6) def. Neumann (5)
2014-2015: Neumann (7) def. Rhode Island (3)
2015-2016: Neumann (16) def. West Chester (0)
2016-2017: Farmingdale (5) def. Neumann (4)
Division II Regional Championship Games:
2000-2001: Binghamton (4) def. West Chester (3)
2001-2002: Binghamton (2,4) def. Buffalo (1,3)
2002-2003: Binghamton(2,7) def. Neumann (4,3)
2003-2004: Neumann (8) def. Maine (2)
2004-2005: Hofstra (8) def. Neumann (7) - overtime
2005-2006: Neumann (7) def. Brockport (6)
2006-2007: Stony Brook (6) def. Neumann (5) - overtime
2007-2008: Neumann (6) def. Albany (1)
2008-2009: Neumann (7) def. West Chester (4)
2009-2010: West Chester (4) def Rowan (2)
2010-2011: Binghamton (3) def. Pittsburgh (2)
2011-2012: Northeastern (5) def. Binghamton (1)
2012-2013: Northeastern (7) def. Delaware (3)
2013-2014: Rutgers (4) def. Slippery Rock (3)
2014-2015: Farmingdale (9) def. Massachusetts (2)
2015-2016: Saint Joseph's (5) def Cortland (2)
2016-2017: Northeastern (7) def. Oswego (1)
Division III Regional Championship Games:
2000-2001: Pittsburgh
2001-2002: Delaware (5) def. James Madison (3)
2002-2003: Drexel (3,2) def. Buffalo (2,1)
2003-2004: Suffolk County Community College (10) def. Delaware (2)
2004-2005: Suffolk County Community College (5) def. Towson (4)
2005-2006: Suffolk County Community College (9) def. Towson (5)
2006-2007: Suffolk County Community College (5) def. Towson (3)
2007-2008: Buffalo (2) def. Penn State (1) - overtime
2008-2009: Penn State (10) def West Chester (1)
2009-2010: Buffalo (5) def. Penn State (4)
2010-2011: West Chester (3) def. Suffolk County Community College (2)
2011-2012: West Chester (12) def. Suffolk County Community College (1)
2012-2013: West Chester (8) def. Slippery Rock (5)
2013-2014: Slippery Rock (7) def. Rowan (0)
2014-2015: Neumann (5) def. Temple (1)
2015-2016: Neumann (11) def. Slippery Rock (2)
2016-2017: Farmingdale (7) def. Rowan (3)
Division IV Regional Championship Games:
2008-2009: Scranton (7) def. Loyola (3)
2009-2010: Northeastern (10) def. Scranton (4)
2010-2011: Queens (7) def. Osewgo (4)
2011-2012: Cortland (9) def. Osewgo (1)
2012-2013: Baruch (5) def. Shippensburg (2)
2013-2014: Niagara (6) def. Syracuse (1)
2014-2015: Lock Haven (9) def. Syracuse (5)
2015-2016: Yeshiva (5) def. Millersville (1)
2016-2017: Rochester Institute of Technology (5) def. Syracuse (3)