Welcome Back Slippery Rock ,Grove City Recap
ECRHA
October 24th, 2017 at 6:03PM
October 24th, 2017 11:06PM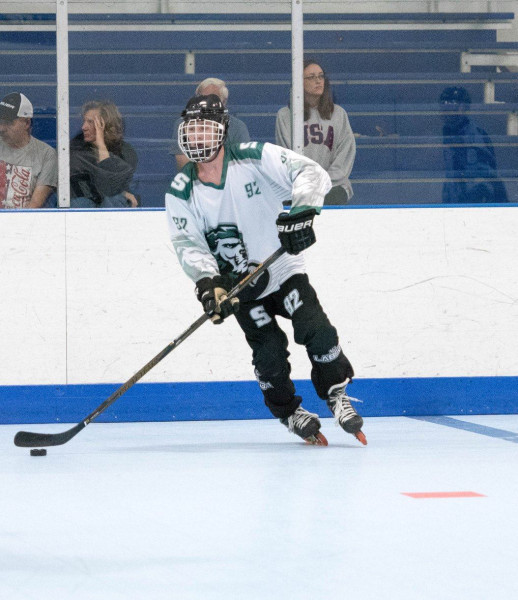 ---
With a weekend under it's belt, the ECRHA season is now in full swing, and this past weekend made their annual trip to Grove City, PA with action across all four divisions.
In Division One action, we saw three teams make the trip as Slippery Rock, Cortland, and Robert Morris would exchange battles throughout the weekend. It was SRU who, at their home rink, would come out the strongest of the three teams. The Pride have plenty of new faces that haven't seen regular season ECRHA action, but that didn't stop them from contending all three games of their weekend. With victories over Cortland, 9-6 and a 6-3 victory over Robert Morris. Although they lost their third matchup of the weekend to Cortland, 4-3, which was an incredibly competitive game for the entirety. Slippery Rock showed they are a contender this year and a team to look out for.
In addition to their loss to Slippery Rock, Robert Morris couldn't find an inch of momentum against the Red Dragons of Cortland, with Cortland going home with a convincing 7-1 victory. The absence of captain Dan Trunk seems to be a real stitch in the side of RMU, as only four players were able to tally points in their two games over the weekend.
The Cortland Red Dragons had a solid weekend overall, finishing at 2-1 , with their victory coming at 7-1 over RMU. We saw Dan Nelson show again that he is in top form for the season, finishing the weekend with 12 points. Cortland is a team that will contend throughout the season, and if they can limit mistakes throughout the year, contend with the best of teams.
Division two was easily the busiest of all this weekend in Grove City, with four teams making the trip, and seven games across those four teams. Throughout the weekend we saw the "Lakeshow" roll into town as Oswego capped off an undefeated weekend in fashion. Starting their weekend with a 4-3 victory over Penn State, as Wilson Kane tallied the lone third period tally for the Lakers. Oswego would survive yet another close game against Syracuse later on Saturday, this time, it was Jack Tofallos with the game winning goal, while goaltender Nicholas Geffken stopped 18 in the 7-6 victory. To finish the weekend, the Lakers lost a tough matchup against RIT 8-6 in a game that saw seven third period goals between the two teams. Oswego may no longer be on the hunt for an undefeated season, but they'll be a team to watch throughout the year, as has seemed to be the case the last few years.
The Nittany Lions of Penn State would bounce back in their two games following a tough loss to Oswego, as veterans John Demarchi and Tyler Murphy would continue their offensive presence, leading PSU in scoring with 8 and 6 points respectively in their wins over RIT (9-6) and Syracuse (9-6). The Nittany Lions have shown again that they have the ability to put the puck in the back of the net rather frequently, and if they can limit scoring chances for their opponents, they will be a team to contend in a massively competitive Division Two scene.
Syracuse, after a year removed from D2 action, would return to the regular season against the team that defeated them in the D4 regional championship last year, avenging their loss to the RIT Tigers 7-5, before falling to the Oswego Lakers 7-6. Syracuse would match up against RIT again in late Saturday action, where RIT would get the best of them in a intensely back and forth game that saw Sam Murray capitalize on a power play opportunity at 4:19 of the third period. Final score RIT 5 Syracuse 4. To finish their weekend, Syracuse would fall to Penn State in a matchup that seemed as though they were fighting off a deficit. Final Score Syracuse 6 Penn State 9.
In Division Three at Grove City, we saw only two teams compete across three games, however, we would see incredible competition and lots of goals. In the first game of the weekend, Cortland would welcome Slippery Rock back to the ECRHA with a 5-4 overtime victory. The star of the show was Red Dragons forward Matthew Horcher, as he'd finish the day with 2 goals and 3 assists, and points on every Cortland goal. The Horcher showcase continued in the teams' second matchup of the weekend, as the Red Dragons would top the Pride 9-4, and Horcher would finish with multiple points yet again, this time putting 4 behind the SRU goaltender, and adding 3 assists for a 7 point day. The third matchup of the weekend would disappoint no one, as Nick Smith of Slippery Rock would capitalize on a 4 on 2 power play with just 2 seconds to spare in the third period to send the game to overtime. In OT, it was Mark DeAngellis who was able to send SRU home with a victory, and home 1-2 on the weekend. Although these were the only two teams in D3 participating in Grove City, it made it easy to tell that we have some great matchups across the division this year.
Division Four action in Grove city saw a lot of goals, and a even a shootout throughout the weekend. While the team of the weekend was Millersville, who continues to impress since they've joined the ECRHA. Millersville finished the weekend with a 4-0 record, defeating both Cornell and Niagara twice, and by amassing a total of 46 goals for, and only 8 against. Look out for the Marauders to take command of the division four standings throughout the year. Meanwhile, we saw Niagara and Cornell split their two games against each other this weekend. Niagara took the first win of the weekend with a 10-3 victory that saw 23 saves by goaltender Alex Hansgen, while Cornell would win the second contest in a shootout on Sunday morning, 5-4 with Joe Fetter getting the game deciding shootout tally.
We saw a lot of competitive action this past weekend in Grove City across all four of our divisions. This coming weekend the ECRHA will be travelling to the Yellow Breeches Sports Center in New Cumberland, PA where 7 D2 teams and 4 D1 teams will compete across Saturday and Sunday!