West Chester Rallies Past Neumann In Overtime
Rams Erase Early 4-0 Deficit
ECRHA
October 22nd, 2017 at 6:10AM
October 22nd, 2017 1:28PM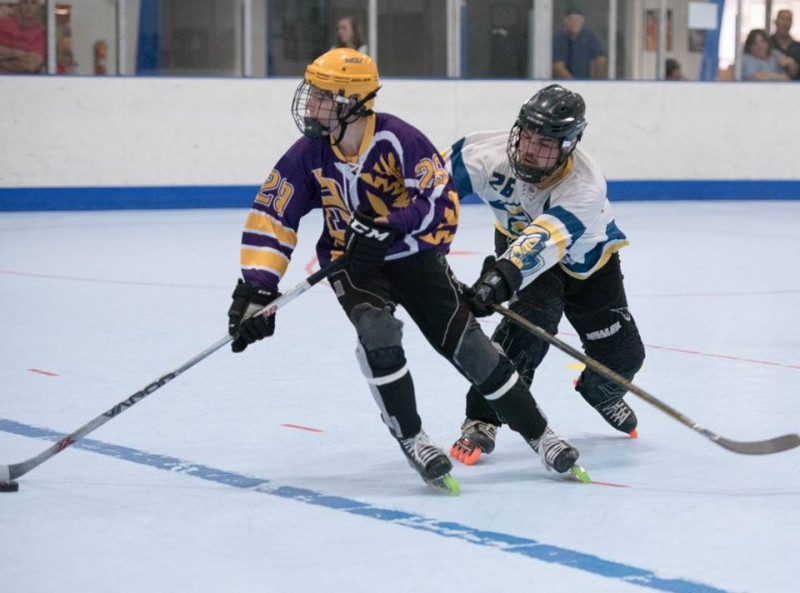 ---
Sewell, NJ - West Chester University opened the regular season against national powerhouse Neumann University at Choice Inline and came away with a 5-4 overtime victory. Coming into the contest, most would have expected Neumann to come out on top, but West Chester had different plans, erasing a 4-0 deficit on the way to the victory.
Neumann, who has advanced to five consecutive ECRHA Championship games, winning three, got off to a fast start when Sean Phelan recorded a natural hattrick to give Neumann a 3-0 lead in the first period. Phelan found the back of the net three different ways, opening the scoring with an even strength goal before adding a power play and shorthanded tally.
Nicholas DeSalvo extended the lead to 4-0 early in the second period, finishing an Andy Zubak pass for the tally.
Ryan Hollingshead started the rally for West Chester, finishing a sequence that included a rare goaltender assist from John Whitman to get the Rams on the board late in the second period.
Derek Hoffman and Hollingshead scored just 52 seconds apart early in the third period to put the pressure on Neumann.
Trailing 4-3, it was Mike Sabol who tied things up at the 8:52 mark of the third, forcing overtime.
In overtime, it was a back and forth affair until Justin Giannantonio fired a Hollingshead feed into the back of the net for the victory.
West Chester poured off the bench and celebrated at the center face-off dot, earning their fist victory of the young season.
Despite the loss, Neumann sits comfortably in playoff position in the ECRHA with a 3-1-1 record.
NEXT 5 GAMES:
West Chester (2-0-0)
vs Temple (1-1-0)
vs Temple (1-1-0)
vs Robert Morris (0-2-0)
vs Slippery Rock (2-0-0)
vs Rhode Island (3-0-0)
Neumann (3-1-1)
vs Rowan (0-1-1)
vs Rowan (0-1-1)
vs Cortland (1-1-0)
vs Robert Morris (0-2-0)
vs Slippery Rock (2-0-0)