Columbus Day Event Recap
ECRHA
October 16th, 2017 at 7:49PM
October 17th, 2017 12:51AM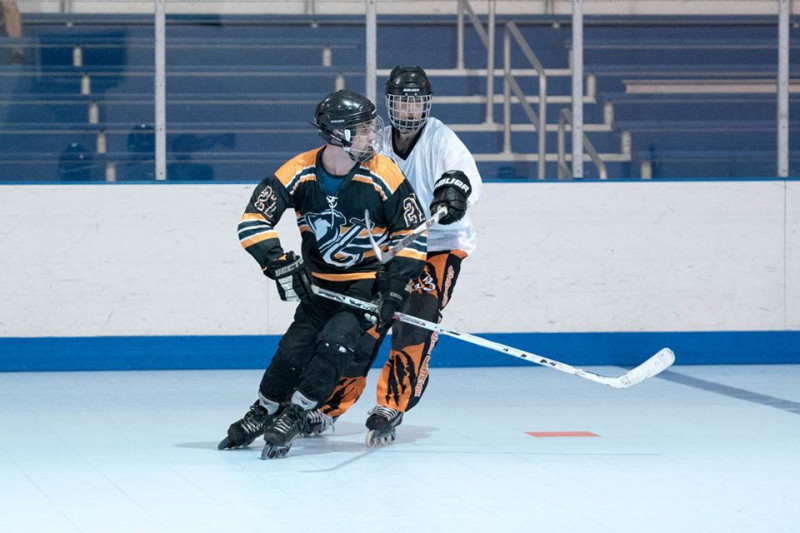 ---
The 2017/2018 ECRHA season is finally here! After much anticipation, players, coaches, staff, family, and friends all are excited about the upcoming year, and that excitement was met with the annual Columbus Day preseason exhibition weekend in Feasterville, PA this past weekend.
Division 1:
In Division One, we saw a lot of familiar faces walk through the double doors of the SportsPlex, and we saw a lot of familiar teams play well on the rink. Defending National Champion Farmingdale for instance, took care of business as usual, finishing the weekend, 3-0 including wins over two other historical powerhouses in the division, West Chester and Neumann.
Speaking of familiar faces, the Pride of Slippery Rock returned to the ECRHA after a year of absence, and they made quite the statement in their return to the rink, finishing the exhibition weekend as the only other team apart from Farmingdale undefeated at 3-0. With a lot of new, young faces in the green and black, Slippery Rock will be a team to keep a close eye on this year.
Throughout Division One, Rowan, West Chester, and UMass finished the weekend above .500 as well, interestingly enough, all of whom did so while having a negative goal differential. If these three teams, as well as Neumann, Robert Morris, Cortland, Temple, and Rhode Island, can take what they saw this past weekend, and make some adjustments heading into the regular season, we could be in for a very interesting year!
Division 2:
Division two, the "meat and potatoes" of the ECRHA this year has an astounding 13 teams within the division. With the return of Saint Joseph's and Syracuse to the mix, as well as RIT, and Hofstra getting involved, D2 is going to most definitely have a lot of eyes on them, as every single game of this year's regular season will matter, and most likely, every goal scored, and goal against may matter as well.
Similarly to D1, D2 saw their returning ECRHA champion, Northeastern come into the Feasterville and show that they still deserve to be atop the region, going 3-0 on the weekend, with only one goal allowed throughout. Alongside the Huskies, were the Pride of Hofstra, whom, after being in Division One last year, showed that they mean business, and are going to try to work their way back into the upper echelon of teams in the ECRHA this year. Penn State as well finished the weekend undefeated, with wins against Saint Joseph's, Drexel, and Delaware. The Nittany Lions, who have welcomed quite a few new faces this year, are looking to improve on their 8-9 year last year, and they may try doing that by making goaltenders dizzy, scoring a leading 25 goals this preseason weekend.
An interesting team to watch in Division Two is RIT. RIT, who won the Division Four championship last year, finished the preseason weekend at 2-1, with their only loss coming to Hofstra, who, as mentioned before, is a team who played Division One last year. The Tigers are hungry, and they are most certainly not a team for returning D2 teams to sleep on when they see them on the schedule.
The rest of Division two finished the preseason as Syracuse (2-1), Stony Brook (1-1-1), Drexel (1-2), Saint Joseph's (1-2), Oswego (1-2), Boston (0-4), and Delaware (0-3). Yeshiva and Endicott did not attend the preseason weekend, however, as any person who watched last year's Yeshiva and Endicott teams, both are teams you can expect to be near the top of the standings come Spring, but it is a long year ahead for these 13 Division Two teams, and there is a lot of hockey to be played.
Division 3:
Division Three always has a lot of moving pieces from year to year. This year is no different, as Neumann and Hofstra are not returning this year, however, Farmingdale has added a second D3 team, as well as the return of Slippery Rock and Temple. With seven teams now in the division, things are interesting yet again.
Farmingdale in D3, similarly to D1, showed that they are a force across the board in the entire region, as both Farmingdale Green and Farmingdale Black were undefeated on the weekend going 3-0, as well as having a mix of players topping the scoring leaders on the weekend. It will be interesting to see if a school can challenge either of these teams this year, or if it will be the year of the Ram in Division Three for the second straight year in a row.
An interesting squad in Division Three is the Red Dragons of Cortland, this is a team who is only returning three of the seven players of last year who had scored more than 5 points all year, and it showed this preseason weekend as they went 1-2 and only managed to score 7 goals throughout the weekend. However, Cortland is a school that always seems to be in the mix whenever they are playing deep into Spring, which includes their run to a Top 6 finish last year at Nationals.
Division 4:
Division Four always has an exciting season to keep up with throughout the year in the ECRHA. This is a division who do not have a national championship to play for, a regional championship is the end goal for all 10 teams in the division, and every game matters including preseason. With the defending champion and runner up, RIT and Syracuse, moving up to D2, D4 has a somewhat refreshed look to it going into this year.
Atop the standings at the end of the exhibition weekend was a team that saw a lot of success last year, and one many thought could make a title run during regionals weekend, Niagara, who went 3-0-1 on the weekend, with their only loss coming to Hofstra, who missed out on 1st in preseason by a single point, going 3-1. The play throughout the weekend was fast paced and exciting, and it was quite difficult to really iron out a better team in a lot of the games that were played. Teams traded victories, five teams finished above .500 in Niagara, Hofstra, Millersville, St. Joseph's (NY), and Vermont, while the remaining three teams that participated, (Stony Brook, Farmingdale, and Baruch) did not find a win throughout the weekend. Cornell and Lock Haven were unable to attend the exhibition weekend, and are two teams that will be very interesting to watch going forward throughout the year.
With all of the top 5 scorers in last year's regular season not participating in D4 this preseason, whether it be via a move to D2, graduation, etc, Division Four is really up for the taking. Any team, or teams for that matter, can put in the extra hours at the practice rink and play lights out throughout the year has a chance at topping this division and it will surely be fun to watch!