Early Morning Action Makes D1-3 Brackets Clearer
ECRHA
March 4th, 2017 at 9:11AM
March 4th, 2017 4:57PM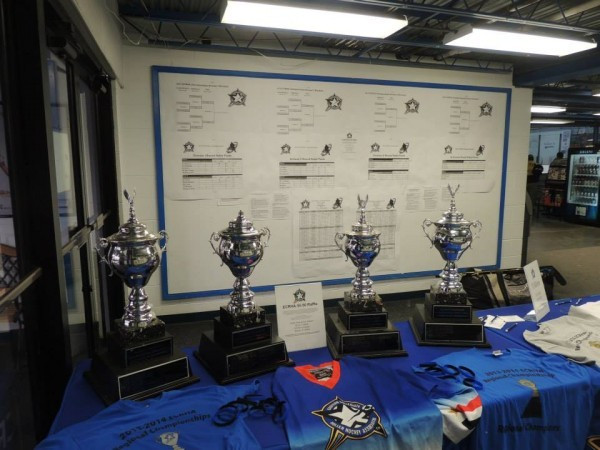 ---
As Saturday came upon us, no team had be eliminated in any division Friday. Each still came in today with a chance of coming out hot today and making a statement for an ECRHA Championship.
The day kicked off with a pair of loser's round one matchups in D3. Rowan looked to bounce back after a tough loss to Neumann yesterday, while Hofstra was looking to get their wheels turning. The game started off to a good pace, with both teams trading chances, but we saw no action until the 3:51 mark of the first where Tunstall of Rowan took a roughing penalty, but it wasn't who you'd expect with the offense. At 4:18 Josh McShane slotted one in shorthanded to give the Prof's a 1-0 lead. But on another Rowan penalty, Hofstra would take advantage, capitalizing on the powerplay and evening the score at 1. Hofstra would take the lead then at 10:53 with a goal from Shaun Randazzo, and the first period ended with Hofstra 2-1 up. Special teams would continue to play a factor in this game as 4 seconds into the second period, Rowan would score a powerplay goal to level the game at 2. Followed by yet another powerplay marker at 4:18 to take the lead, 3-2. At this point, this was Rowan's game as they were in complete control. They would finish the game with two more goals. Final Score: Rowan 5 Hofstra 3
On the other end of the bracket, we saw Northeastern continue to showcase that they are not a pushover in this tournament, doubling Cortland in shots 6-3 through one period, however neither team was able to find the back of the net. As the 2nd period began, it was as if a new Cortland team emerged, and came out firing. The Red Dragon's would find goals from Corcoran, Parker, and Miller. Northeastern would take their turn on the scoresheet with a goal from Joshua Lee, and at the 2nd of two, it was 3-1 Cortland. The Red Dragons would increase their lead to 3 with a goal at 2:34 of the third. Northeastern would do their best to battle back, with goals at 3:47 and 5:49 respectively, but Cortland was able to stop that momentum and hang on. Final Score: Cortland 4 Northeastern 3.
As the D3 games concluded, Stony Brook and Penn State took the rink in D2 play. Stony Brook, after a disappointing loss to Endicott in winner's round 2, and PSU who were on the end of a beating by Yeshiva in round 1, both were looking to turn things around and make a run. It seems as though early goals have been happening more often than not as Nittany Lions forward Chris Rodgers cut across the slot and fired one home at 1:38 of the first. But, it seems as though that is what Stony Brook needed to kick their play into gear. Palermo answered back 2 minutes later, and from there, Stony Brook would add two more to their lead, controlling play 3-1 after one. Then, as the second period starts, Penn State would take two ill advised penalties, and the SeaWolves capitalized, extending their lead to 5-1. Penn State fought back and brought the game within 2 with a pair of goals from Scott Breen in the third, but Stony brook was able to hold on, behind some amazing saves by D2 Goalie of the Year Rory Buckley. Stony Brook will play Oswego in Loser's Round 2, while Penn State will play Yeshiva in our 4th place matchup. Final Score Stony Brook 5 Penn State 3
Loser's bracket play continued with D1 teams taking control as PSU and Stony Brook evacuated the floor. On one side, we saw West Chester match up against Umass. Umass was surprised in their first match against Rhode Island yesterday, so it was known coming in that this game was going to be entertaining as the Rams and Minutemen played for their tournament lives. West Chester played an emotional game yesterday in a loss to Farmingdale, and they came out the same way today, taking the lead with 9:04 left in the 1st. Through the first two periods, it was the Wittman and Davis show, as the goaltenders from both teams stole the show making spectacular saves on each end. It was Derek Hoffman who grabbed the spotlight. Finishing a beautiful one-two pass, then shortly after one times a shot past Davis' glove to put WCU up 3-0. West Chester would add two more and cruise to a 5-1 victory and a spot in loser's round 2. Final Score West Chester 5 UMass 1
Opposite, we saw Rhode Island, looking to rebound after facing Neumann, and Rowan, fight to see who would meet West Chester later today. The game started quietly, as team's attempted to feel out one another. That was, until the final minute of the first period. That is when URI's Gil Lederhandler slipped one past Rowan to take a 1-0 lead, 27 seconds later, Will Lalor added another for the Rams. Next, before you could even blink, 4 seconds following, Joseph Coffin scored for Rowan to bring them back within one. We dropped the puck for the 2nd period, and found Lalor on a break shorthanded and burying one past Rowan to go up 3-1. The Rams did not look back from there, scoring two more in the second, and Lalor completing the hat trick in the third. Final Score: Rhode Island 6 Rowan 3

Bracket play continues on Championship Saturday here in Feasterville. Be sure to follow along and visit ecrha.net for radio broadcasts and live streams courtesy of our friends over at Game changer Sports!