ECRHA Divisional Breakdown
ECRHA
November 12th, 2016 at 12:45PM
November 12th, 2016 6:51PM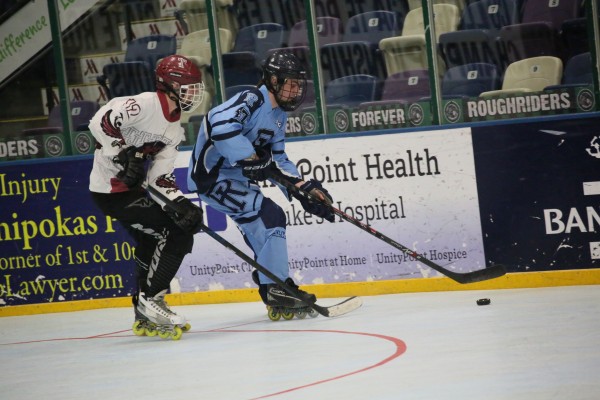 ---
As we near the halfway point of the season, things are beginning to become very interesting in all four divisions as the race to Regionals continues. We are starting to see rivalries form, playoff bubbles are becoming apparent, and top players in each division are putting up big numbers on the scoresheet. Here is a look at the current standing of each division in the ECRHA, as well as what to look for heading into the second half of the season.
In Division 1 we see two very familiar faces atop the standings, as Farmingdale and Neumann are tied for 1st in the division, both sitting at 7-1. With that, Neumann did defeat Farmingdale this past weekend with a comfortable 5-1 victory. However, were then upset by UMass the next day. As we look lower in the standings, currently, we see Rowan sitting 3rd with a 5-5-1 record. Now, their position could be changed rather quickly, as all but one team below them has games in hand. Then, as we get closer to that precious sixth position in the standings, things get more interesting. 4 points separate 4th place from 8th right now. UMass, hot off of their upset of Neumann is currently 5-2 and looking to continue finding the winning formula to finish off the year. Behind them, West Chester (4-1-1) has looked strong throughout the year with their only losses coming to Neumann and Rowan (in OT). Rhode Island (3-3-1) currently is sitting on that precious 6th position in the standings. However, Temple (3-0), with only 3 games played, is still undefeated, and Ralph Grillo and company looked very strong during their weekend in Grove City in October. Also in the logjam between 4-8 is RMU (3-4) although they have had some rough games throughout the year, RMU has the makings of a great squad that we could see make a playoff push in the 2nd half of the season. Cortland (1-8-1) and Hofstra (1-10) round out your D1 standings, with the two schools having difficult years, although, if we've learned anything throughout league history, don't ever count a team out, if teams get hot at the right time, we just might see the D1 standings get completely flipped around.
In the scoring race, Neumann's players are showing that they can put up numbers, as Shane Fox, Tyler Kraft, and Michael Strofe sit atop the scoring race with 30, 27, and 20 points respectively. One thing to note, after his record-breaking year last year, Tyler Kraft has 27 points through just 5 games, which is a higher average than his last year totals. On the goaltending front, Jordan Davis is still making great saves for UMass, with 7 games played, Davis has made 181 saves already throughout the year, and currently has a 90.8 Save Percentage, with 2 shutouts.
Division 2 is a similar story to Division 1, as some teams are sitting comfortably near the top, while from the middle of the standings down, it the chaos begins, but with the right team getting hot at the right time, it's still anyone's year. Stony Brook (8-2) is currently in first in the standings, and the only team with 10 games played so far. However, that isn't stopping the Seawolves as they have played with discipline offensively, and organization defensively, allowing them the stay in first this far in the season. Not far behind the Seawolves are Northeastern (5-2) and Yeshiva (5-1). Both of these teams are new to D2 this year, as Northeastern was moved down from D1, and Yeshiva was moved up from D4. And their play has shown that they are comfortable where they are. Endicott, another former D4 team, is currently at 4-2-1 and in 4th place in the D2 standings, again, another team who not many knew what to expect of is performing well after being moved up. Then the chaos ensues, Penn State (3-1-1) is currently tied for 5th in the standings with Villanova (3-4-1) at 7 points. And that right now 'closes out' the 6 playoff seeds as of right now. However, Oswego (3-4) is sitting in the 7th place spot just waiting for the opportune time to strike, as well as Boston (2-5), only 3 points out of a playoff position themselves. Delaware (1-4) and Drexel (0-6) currently close out the D2 standings, however, Delaware is a team in which only one of their games have been decided by more than 3 goals, so be sure not to sleep on the Blue Hens throughout the rest of the season.
Division 3 currently has one of the most dominating teams in the ECRHA in their division, as sitting in first place currently is Farmingdale (6-0), and throughout those six games, Farmingdale has scored 46 goals themselves and only allowed 6 goals. However, looking through at Rowan (6-4), Cortland (4-3), and Neumann (3-2-1), as is a common theme in all of the divisions in the ECRHA, do not count anyone out. In Division 3, all 6 teams will be invited to the new double elimination playoff style bracket, so all six teams will get the chance to play for a regional title, which could show us that with a little over half of a season remaining, Division 3 very clearly is anyone's ballgame.
In Division 3, goaltender Daniel Perepezko is one who stands out immediately statistically. Daniel currently has 4 of Farmingdale's 6 wins, with a miniscule 0.75 GAA, and a 96.5 Save percentage, amazing numbers from a goaltender. In the scoring race, James Kolokathis is off to a great start with 22 points in 5 games, closely followed by Nicholas Klausner and Joshua McShane of Rowan, both with 17 points so far throughout the year.
It is still very early in the Division 4 year, as RIT and St. Joseph's (NY) have the most games played at 6. However, if one thing can be said for certain, it is that the two undefeated teams in this division so far, RIT and Syracuse, can score goals. RIT currently sits in first at 6-0, and in those six games, have scored 57 goals, an average of 9.5 goals per game. Meanwhile, Syracuse, tied for second in the division, has scored 30 goals in their 3 games, a 10 goal per game average. Crazy numbers by these two schools. As mentioned however, it's still fairly early in the year for many of the D4 teams. To summarize your standings currently, RIT sits atop the division at 6-0. Meanwhile Farmingdale (3-1) and Syracuse (3-0) are tied for the 2nd spot at the moment. St Joseph's (2-3-1) is not far behind in the 4th position followed by Millersville (2-1). There are currently four teams with one win in D4 as Baruch (1-2-1), Niagara (1-2), Lock Haven (1-2) and Vermont (1-4) all are jostling for position, as D4 is the only division which will remain an 8 team pool play bracket at the Regional Playoff. Finally, Cornell is struggling offensively, as they currently sit at 0-2-1, however, as mentioned before, it is still very early in the season, and things could turn around quickly for the Big Red.
To no surprise based on the amount of goals for each team, Syracuse and RIT players are dominating the scoring, as Kyle Lewandowski and Samuel Murray of RIT currently sit with 24 and 23 points respectively. However, not far behind are Anthony Bellman (18 pts) and Andrew Ungvary (16 points), It will be interesting to see how the scoring leaders shift around as more teams play more games throughout the season in Division 4.
The ECRHA has had no shortage of news in 2016. With teams approaching or passing the halfway point of the season, it is only expected that we see more great games from teams. As well as more jaw dropping individual performances across all four divisions. It will certainly be a sight to see as we inch closer to the 2016-2017 Regional Championships in Feasterville, PA in March!