Neumann Remains Undefeated, Takes Down Farmingdale
ECRHA
November 6th, 2016 at 6:11AM
November 12th, 2016 6:10PM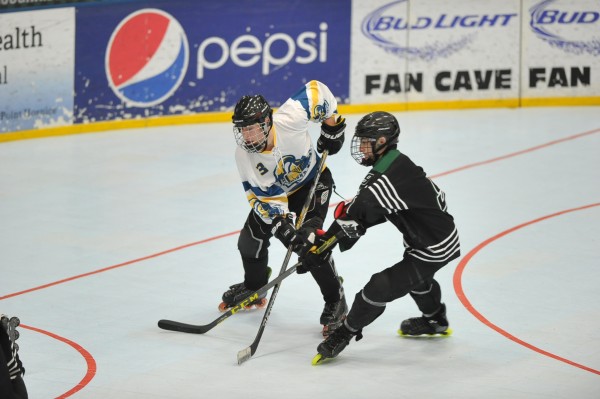 ---
There was much anticipation and hype when Neumann and Farmingdale got together last night at Skate Safe America in Old Bethpage, NY.
Neumann, who has won two straight national championships and 67 straight games against ECRHA opposition was confident. Farmingdale, in just their second season in division one and two years removed from a division two national championship was cautiously optimistic.
It was Neumann who struck first, with Michael Gonzalez in the box for interference, Shane Fox scored just moments before the penalty expired to give Neumann a 1-0 lead.
Just 43 seconds later, Ryan Car was streaking down the wing when he fired a hard wrist shot that beat Farmingdale goaltender Dustin Muccio-Schrimpe just over the pad for a 2-0 lead.
Farmingdale would get a power play of their own late in the first period with Sean Phelan in the box for goalie interference. Matthew O'Shaughnessy got a piece of a Nick Tarasco shot in front that found its way into the back of the net.
Things would remain that way for most of the second period until Michael Strofe, son of Neumann Head Coach Lee Strofe, fired a wrist shot from just inside the blue line that found the back of the net for a 3-1 lead.
With Neumann defending a 3-1 lead in the third period, Farmingdale came out with a ton of pressure and found some success in the offensive zone. Adam Goggio had all the answers in net for Neumann, turning aside nine Farmingdale shots in the third period.
In the middle of the third, it was a pair of tallies by Andy Zubak and Ryan Carr who scored a pair of goals 41 seconds apart to put the game away for Neumann. Tyle Kraft finished the game with three assists for Neumann during the 5-1 victory.
Neumann extended their ECRHA winning streak to 68 games with the victory. Farmingdale and Neumann will meet once more this season, on November 19th in Feasterville, PA.