All-Star Festivity Recap
Congratulations To All Who Were Selected
ECRHA
February 21st, 2015 at 8:53PM
February 22nd, 2015 3:03AM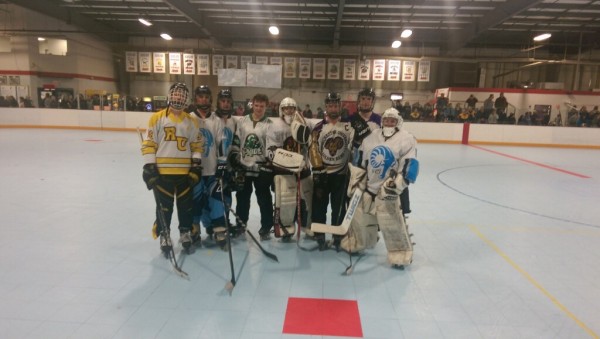 ---
At 7 PM, the ECRHA kicked off its All-Star Festivities with a matchup between the Division I All-Stars and the Division II All-Stars. After trading goals back and forth, the Division I all-stars pulled away behind the strength of goals behind Slippery Rock's Tyler Sheppard and Rutgers Ryen Pezzolla. Ultimately, they would prevail by a score of 6-3, with Sheppard being named the game's MVP by scoring a hat trick.
After the all-star game, the first of two events in the skills competition began, as sixteen skaters vied for the title of fastest skater. After eight head to head matchups and a quarterfinal round, the final four consisted of Thomas Hughes from Cortland, Eric Spencer from Rowan, Michael Dean from Delaware, and Nick DeSalvo from Neumann. Eric Spencer prevailed over Tommy Hughes in the final to be crowned the 2014-2015 ECRHA's Fastest Skater.
In the second half of the skills competition, over fifty goalies and skaters competed in the breakaway portion of the competition, where one goalie and one skater would be crowned breakaway champion. In the goalie portion of the competition, both Division II goalies stole the show, as Danny Snyder from Stony Brook and Mark Flitsch from Boston went back and forth battling it out for over twenty five shots, until finally Flitsch came out on top to be crowned top goaltender in the 2014-2015 breakaway competition. In the shooting portion, it looked like Haydon White from Lock Haven would take the crown, but Dustin Paquette from Vermont and Kevin Rafferty from Delaware kept potting goals to stay alive. Eventually, it came down to do or die for each shooter, with Rafferty putting one past Snyder to be crowned breakaway champion for 2014-2015.
The final event of the evening would be the Division III vs. Division IV All-Star game, which also turned out to be a doozy. Tied 3-3 with minutes left in the game, the Division IV all-stars pulled away behind goals from Kutztown's Brian Benz, Ramapo's Christopher Mecca, and Lock Haven's Tyler Gilbert. Taking home MVP honors was Shippensburg's Bobby Neely, who had a goal and two assists.