All-Star Game Skills Competition Match-ups Released (UPDATED)
Sponsored by Revision
ECRHA
January 20th, 2012 at 5:30PM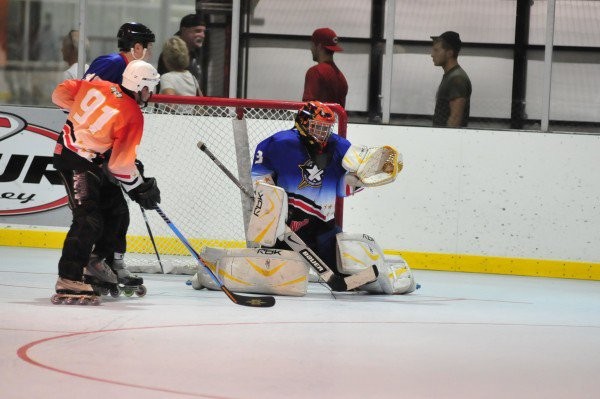 ---
ECRHA Skills Competition Line-Up Announced
Due to the schedule change, some players are now unable to compete in the skills competition. As a result, your team may have changed. Please check out the revised pairings/teams below. We will update these accordingly on the blowups posted on the big board at the entrance between rinks 2 and 3.

The ECRHA is proud to announce the brackets for the fastest skater and 3 on 0 breakaway competition. As mentioned before, the festivities begin promptly at 4 PM on rink 2. The fastest skater competition will be first, followed by the breakaway competition. For those competing in the breakaway competition, please be dressed and ready by 4:15 PM. Locker room assignments will be posted on the big board at the entrance between rinks 2 and 3. We will do our best to post brackets at the rink. Both events are winner moves on, loser goes home.
Our sponsor for all the all-star events will be Revision. Winners of each event will receive a set of Revision wheels and be invited to be a part of "Revision Nation". Also, please make sure you stop by the ECRHA Marketing table for other great free items, along with a chance to enter our 50-50 raffle. Last event, Jim Tamburino won $180 dollars!
Fastest Skater
The following pairings were chosen at random. As of now, we are still short four skaters. The players who were lucky enough to receive bye's will keep them unless any late entries are received. Registration will stay open until the event fills up. Skaters must be ready to go at 4 PM sharp. If you are not on the rink at that time, you will forfeit your matchup. And the matchups are:
· Jay Quinn (Queens) vs. AJ Benning (Rhode Island)

· Mike Weisberg (Stony Brook) vs. Devon Auge (West Chester)
· Thomas Hughes (Cortland) vs. Corey Bauman (UMass)
· Sean Beatty (Hofstra) vs. Matt Sullivan (Boston)
· Jackson Griggs (Oswego) vs. BYE
· Matthew Toy (Northeastern) vs. Andrew Hanlon (Boston)
· John Periera (UConn) vs. Shane Vassalo (Penn State)
· Jeremy Higginson (Ramapo) vs. Ed Jones (Neumann)
· Matthew Riopelle (West Point) vs. BYE
· Carlin Crombie (Pittsburgh) vs. Joe Cangro (Queens)
· Brian Donovan (Northeastern) vs. Nick Tomczyk (UConn)
· Ricky Guadagno (Suffolk CC) vs. Jon Adams (Rowan)
· Alex Schmitt (Rowan) vs. BYE
· Ryann Setlock (Buffalo) vs. Joseph Chappius (Brockport)
· James Baker (UConn) vs. Stephen Ferguson (Queens)
· Trevor Butterfield (Rhode Island) vs. Mike Bonaskiewich (Millersville)
3 on 0 Breakaway Competition
For this competition, teams will have 45 seconds to score as many goals as they can on the opposing goaltender. Teams will start on opposite benches. When the whistle blows, teams will hop off the bench and pick up a puck, which will be located in the center face-off circle. Rebounds will not be allowed, and all three skaters must skate in on goal and back towards the pucks, which will be located in the center circle. If the teams are tied after 45 seconds, a sudden death single man shootout will determine the winner. Each team will then select a shootout list (i.e., person A will shoot first, if necessary, person B will shoot second, and person C will shoot third if need be) Remember, it is sudden death- if one team scores and the other misses, the matchup is over. The 3 on 0 breakaway competition will begin immediately after the fastest skater competition is over.
First Matchup:
Devin Gee (Hofstra), AJ Perron (UMass), Steve Strohsahl (Boston), Christian Ricketts (Slippery Rock)
Vs.
Tom Petro (Delaware), Nick Allison (Neumann), Alex Robinson (UConn), Adam Melillo (Stony Brook)
Second Matchup:
Anthony Basile (Cornell), Jon Adams (Rowan), John Kaszubski (Stony Brook), Richie Giannino (Suffolk CC)
Vs.
Robert Lerro (Northeastern), Matt Lester (Ramapo), Jared Pollet (Rhode Island), Lou Vetri (Cortland)
Third Matchup:
Scott Angeloff (Slippery Rock), Brendan Scalley (Rowan), Kevin McGraw (Penn State), Chris Norton (Rhode Island)
Vs.
Gary Krupa (Cortland), Matt Mendolia (Queens), Pat Rosa (Hofstra), Zack Back (UConn)
Fourth Matchup:
Stephen Ferguson (Queens), Steve Roth (Oswego), Ryan Haswell (Neumann), John Harris (Northeastern)
Vs.
Cody Gabor (UConn), Matt Wojcik (Pittsburgh), Pat Masur (Ramapo), Jared Occhicone (Hofstra)
Fifth Matchup:
Keith Goodman (Temple), Nate Gerger (Pittsburgh), Daniel Vrana (Buffalo), Neil Tweardy (Millersville)
Vs.
Mike Sobel (Northeastern), Ben Heydt (Millersville), Kyle Manny (UConn), Johnny Mehler (Temple)
Sixth Matchup:
Tyler DaSilva (UConn), Mike McCorkle (UMass), Sean Simpson (Slippery Rock), Brad Witt (West Point)
Vs.
Brian Pershinsky (Binghamton), Scott Kalbfleish (Temple), Chris Fidotta (Cortland) , Maxwell Sparr (UMass)
Seventh Matchup:
Eric Urso (Stony Brook), Anthony Yacavone (Queens), Billy Cunningham (Neumann), Chris Galante (Oswego)
Vs.
Dave McFillin (Rhode Island), Bryan Feiler (Buffalo), Justin Weik (Millersville), Josh Krantz (Queens)
Eighth Matchup:
James Schunk (Oswego), Chris Culot (Hofstra), Kevin Robitaille (Boston), Jim Dumont (Neumann)
Vs.
Kenneth Bogart (Cornell), Jonathon Ison (Binghamton), Ryan McGeehan (Slippery Rock), Dan Cordle (Pittsburgh)