University at Buffalo Sweeps D1 and B ECRHA Titles for the Second Time in 3 Years!
Both teams will travel to San Jose, CA to compete in the NCRHA National Championships!
ECRHA
March 8th, 2010 at 2:01PM
March 9th, 2010 12:19AM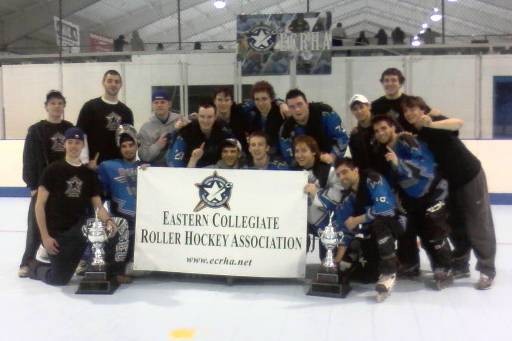 ---
The D1 Team went into regionals putting their ECRHA undefeated streak on the line. They would play Stony Brook first and win in decisive fashion 10-1. Tyler Walser had 5 goals and 2 assists in the effort. Next, the Wings would play West Point; the only team they tied conference play this season. The Wings would come out on top, 5-3. In their final round robin game, they would play their rival Towson. They would get off to slow start only being up 4-2 after two periods of play, but would score 8 goals in the 3rd to win 12-2. The Wings received a bye to the semi finals boasting a 3-0 record. The Wings would play Rutgers and dominated from start to finish winning 9-1. Mike Kaminska would get his first career hat trick. The finals were set and it would be a rematch of last years championship, between Rhode Island and Buffalo. After being deadlocked at 3 after two periods, the Wings would score 3 unanswered to win their second D1 title in 3 years. They clinched an auto-bid to Nationals in San Jose, CA in early April.
The B squad went into regionals needing a championship to receive a bid to Nationals. They would start off the campaign against Suffolk CC. They would beat them 6-2. Jeff Elias had 5 points in the win. Next the Wings would play Stony Brook. They beat them with ease 6-1. Elias had a hat trick while his linemate Bryan Feiler added 3 assists. Next they would have to play West Chester. A team that had beat them twice earlier this season. The Wings would end up taking 44 penalty minutes in the game which caused a 3-1 loss. They had to play an extra game against Towson to get to the semi finals. Buffalo would go up 3-0 in the first and then wait out a very sloppy victory to end a long day. The next morning they faced West Chester in the semi finals. The Wings would get into some penalty trouble and after two periods were down 5-3. While killing off a major penalty to start the 3rd the Wings went down 7-3. With less than 8 minutes left in the game the Wings would score five unanswered goals to win the game. Freshman John McLaughlin would have a natural hat trick to cap the 5-0 run. The Wings would then play #1 ranked in the country, Penn State. The Wings went up 4-0 with the help of another freshman natural hat trick by Dan Vrana. However, a late surge by Penn State would pull the game to within one. With 5 seconds left the puck was cleared from Buffalos zone and the Wings jumped the boards and mauled goaltender Ben Kozar. The B team won their 2nd ECRHA title in 3 years. They also clinched an auto-bid to Nationals in San Jose.
By the Numbers:
2nd time in 3 years both teams have won the ECRHA Championship. 3rd Straight year both will get bids to Nationals
D1-Tyler Walser led all players in the tournament with 27 points and 16 goals. Chris Kendall led all players with 14 assists. Had 3 of the top 4 scores in the tournament (Tyler Walser, Chris Kendall, Alex Durinka). Alexx Christie led all goaltenders in wins (5), GAA (2.00), and save percentage (.902).This was their 2nd ECRHA Championship in 3 years. They have made it to the ECRHA Championship game the last 4 years (2-2 record). This is their 7th straight year of getting a bid to the National Tournament. This year was their first D1 Regular season championship. They were undefeated in Conference play as well.
B-Bryan Feiler led all players in assists (9). The Wings had the number 2-6 scorers in the tournament (Bryan Feiler, Jeff Elias, Dan Vrana, John McLaughlin, Nick Narchus). Goaltender Ben Kozar was first in GAA (2.70) and 2
nd
in save percentage (.888). He also played a game as player and added a goal. This was their second ECRHA championship in 3 years. This is the 3
rd
straight year they will get a bid to Nationals